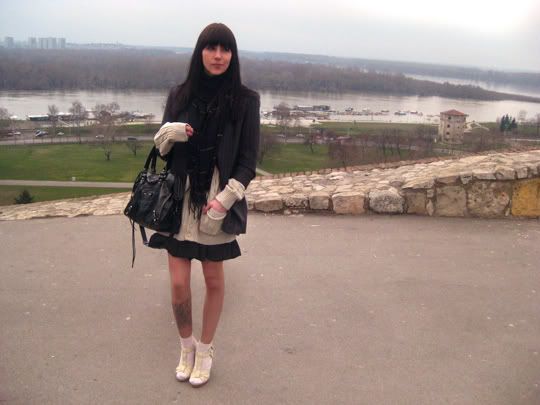 I'm Teenvogue girl of the week, yay! Thanks for reminding me, my lovely readers! The ones that haven't read it yet and are interested can check it out here!
So yep, I'm still alive although not completely healthy since I'm still dealing with a weird allergic reaction to God-knows-what but otherwise it's all going good down here.
So this is me visiting a place I've been before about half a year ago, now having learned that it's called Kalemegdan, an ancient fortress on a hill in the heart of Belgrade, and the view from up there is quite an enjoyful one. You can even see both Sava and Danube floating into each other right behind me – whoa! Haha… well I really apologize for the ultra ultra crappy picture quality, but well, all we have to take pictures round here is my boyfriend's Canon Power Shot SD1100… it's CRAP! For photo art I'll have to wait till I'm back with my sister's digital reflexive cams.
Talking styling, not much to report except that I have to be more than thankful for all the lovely people around me who lend me credit cards or even get round to buying me inaffordable things! Nuff said, Ricky hearts her perfect city bag.
The oversized grey blazer is Gerry Weber, very soft quality found in a thrift store back home, I'm loving it! And on top of it all, I felt a bit Gala inspired when I saw her wearing white socks in white shoes in one of her blog posts lately, so I had to try it out!